The Homecoming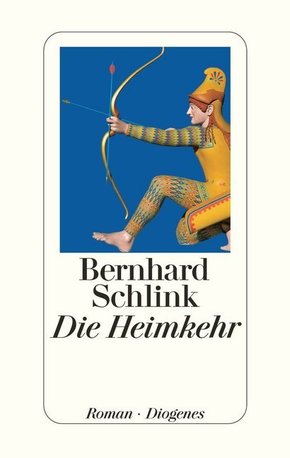 Aptly enough, on my plane ride back to Hong Kong I finished reading Bernhard Schlink's new book "Die Heimkehr" or "The Homecoming". Best known as the author of the best-selling "Der Vorleser" or "The Reader" (which caused quite a literary sensation upon its publication in 1997 and is now read by everyone in Germany from Abitur-students to housewives), Schlink is trained in law and is a professor of Rechtsphilosophie (Philosophy of Justice) at the Humboldt in Berlin, but started his literary career writing crime thrillers. "Der Vorleser" caused a sensation because of the juicy/graphic descriptions of a relationship between a 15 year old boy and a 30 something year old woman, but the most controversial aspect of the novel was the revelation of the woman's role in an act of Nazi atrocity, pitting the law-student protagonist's abstractly idealistic notions of justice against his conflicting emotions for his former lover. By the end I was so caught up in the story that I ended up bawling at the conclusion, yet beyond its emotional factor, the success of The Reader was due to its brave voicing of his '68 generation's ambiguous feelings towards their fatherland's horrific past.

I remember reading

Der Vorleser

for the first time in English (unfortunately it garnered the attention it did from Oprah's book club) and flipped through the book in two hours in a Borders. I wasn't impressed by the flat prose and the unlikely plotline. So when I found out we were reading it in the original for my German 4 class senior year of high school, I was less than thrilled. However, I quickly realized that the English translation had lost much of the simple elegance and turns of phrases present in the original. The prose was chillingly direct, stalkingly beautiful, complex and succinct. I became so emotionally caught up in the story that I ended up bawling at the conclusion, and now it's one of my favorite books hands down, in any language.

Of course, one of the critiques often heard about

Der Vorleser

was that it beautified or excused Nazi actions since the novel's ostensible representative of Nazi power was crafted with such compassion. How

dare

he give an ex-Nazi protagonist a complexly human facet--with the ability to love and the propensity to hurt? But by no means does Schlink excuse the actions of his fathers. In fact, quite the opposite: he simply wanted to capture the crisis of conscience that confronted so many in his generation, the students of '68 who clamored for a more honest discourse about Nazi horrors and the complications throbbing in WWII's aftermath. Yes, our grandfathers were Nazis, and yes they are to blame--but how much of their actions came of their own volition? or were they simply caught up in the banality of horror, as Arendt said?

Schlink's protagonists stand at the crossroads of Germany's national history and private sorrow. Like characters in a Greek tragedy, they pick their lot according to the bad hand Fate dealt them--a function of being an unwitting subject in the problematic history of their Fatherland.

Die Heimkehr

deals with especially problematic fields in the history and philosophy of law and transfers them into the realm of suspenseful fiction. Schlink uses Homer's

Odyssey

as a leitmotif to weave together Germany's most significant recent historical events (Nazism, the fall of the Berlin Wall, problems of Reunification) with the protagonist's search for the mysterious figure who left behind a trail of written tracts that theorize justice not according to any conventionally moral standards, but rather to a perversion of the "golden rule" (do unto others what you would others do unto you) called the "iron rule" that essentially justifies any act of evil because it preempts an expected act of evil from the opponent. "Das Buch ist böse", says one disgusted protagonist of these tracts [the book is evil]. How much more complicated then, when this starry-eyed Odysseus discovers the sins and secrets of his father--and realizes that the notions of justice that he holds true to his heart run contrary to those of the man whose blood courses in his veins?

This journey takes him through tests and trials to the heart of a philosophical darkness wherein life begins to imitate art - most unsettling is how Schlink charts the way this "iron rule" easily metamorphoses from disturbing abstraction into harrowing reality. The climax purposely alludes (I think) to Holocaust accounts, a la Wiesel or Levi. The specific moment where the protagonist understands the banal notions that propagated such extreme evils illustrates how innocent millions were taken to the slaughter based on seemingly intellectual, justified grounds in the Third Reich. Die Heimkehr is a tour de force of penetrating philosophical inquiry bound up in a suspenseful story of love relationships.

What does this actually have to do with my own

Heimkehr

? Well, reading the book certainly made me hunger for more Schlink, or at least for people with whom I could discuss him and such themes. After coming back this time to Hong Kong, I realized with alarmingly apocalyptic clarity that this is not the place where I can be at home spiritually. It's an uncomfortable part of growing up when you realize the home that you loved so much growing up cannot remain your home forever. I know it's quite coarse for me to dismiss the entire population of such a cosmopolitan city and say no one here cares about history, philosophy, literature, art, music, etc. etc...but there are certain objective standards that betray the geist of the city, such as quality of bookstores, cultural monuments, average person's value/worth judgments. In any case, it's good to be home, but just like Odysseus or Schlink's protagonist, I will be off again pretty soon after my homecoming. And just like them, I vow never to rest until I've found a spiritual resting place.

p.s. some of you may know I write a weekly column in the English section of a daily newspaper in HK, Ming Pao Daily. I've been writing for almost a year now, but starting in September they'll be making some changes to the page and will be discontinuing my column. Auf wiedersehn to that, I guess...but I've been grateful for the opportunity to chronicle such an eventful year--I doubt I would've had the discipline to write so much had I not had deadlines to meet. But my energies will be directed other forms of writing!